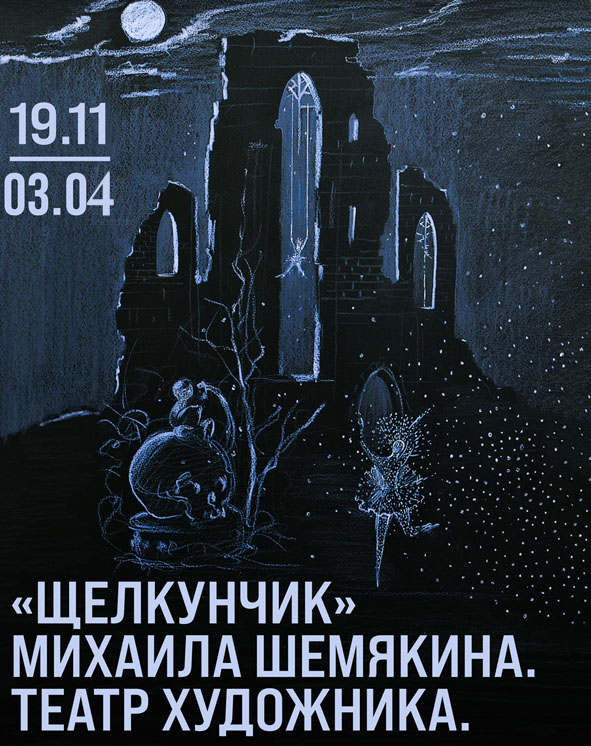 This year marks the 245th anniversary of E. T. A. Hoffmann, and 205 years since the first edition of his fairy tales, including "The Nutcracker and the Mouse King". Furthermore, twenty years have passed since the premiere of the ballet based on the tale that Mikhail Shemyakin created for the Mariinsky Theater. The exhibition "Mikhail Shemyakin's 'Nutcracker'. Artist's Theater" was organized to celebrate these dates.
The exposition aims to introduce the viewer to the artist's interpretation of one of Hoffmann most famous fairy tales, "The Nutcracker and the Mouse King", through the lens of two productions — "The Nutcracker" and "The Magic Nut". The exhibition space resembles a backstage labyrinth, where the visitor, surrounded by heavy velvet curtains, scenery and characters, becomes a spectator, and the museum turns into a theater. But even in this theater, the interweaving of the real and the fictional creates the effect of Hoffmann's double world, where not all characters twinkling in the wings are actually actors.
The artist was first introduced to the art of the German romanticist in his youth, and during the Leningrad period, he created a number of illustrations for his novels, including "The Life and Opinions of the Tomcat Murr" and "Kreisleriana". Some of the illustrations will be on display at the exhibition to show the history of the artist's work on Hoffman's stories.
A section of the exhibition will be dedicated to the production of the ballet, its scenery and costumes, and will include rare photos of the preparation works for this production. You can say that the common thread running through the exhibition is the era of German Romanticism with its cultural features, which Mikhail Shemyakin studied in great detail during his work on the ballet. The main goal of the production, in the artist's own words, was "to once again fill the tale with Hoffmann's spirit, its elements of grotesque humor, its quirks and transformations, and to combine the visual part with Tchaikovsky's musical drama".
The exhibition includes original sketches for the costumes and stage sets for the ballet, printed works, sculptural images of the characters and rich decor inspired by the ballet that naturally brings together the entire space.
Exhibition schedule: from November 19, 2021 to April 3, 2022.
Tuesday – Sunday from 11:00 to 19:00.
Address: Saint Petersburg, Sadovaya st., 7-9-11
To visit the exhibition you need to have a valid QR-code proving full vaccination or prior infection, or a Medical Certification for Vaccination Exemption. Please show it at the ticket office when buying a ticket!
The Mikhail Shemyakin Center is a member of the Association of Private and People's Museums of Russia.
Source: mihfond.ru